Stakeholder Engagement
"HWL is committed to enhancing long-term shareholder value through regular communication with its shareholders, both individual and institutional."
- HWL Shareholder Communication Policy
Shareholders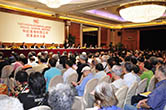 HWL has frequent communications with the financial community including analysts, fund managers and other investors. The Group also encourages shareholders to participate in shareholders' meetings physically or appoint proxies to attend and vote at the meetings.
The Shareholder Communication Policy is available on the corporate website: www.hutchison-whampoa.com.
Customers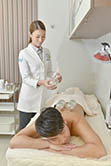 Customer feedback is crucial to building a sustainable business, especially in the highly competitive industries and markets that the Group operates in. For our retail businesses, customers have a range of channels to engage the company such as customer service centres, focus groups, and where appropriate, social networking pages. By engaging customers through the latest technological advancements in e-commerce channels, smartphone apps and social networking tools, our retail businesses are engaging their customers through more channels than ever before. In addition, local retail businesses will offer new products and services to meet the needs of the local communities. For example, in Hong Kong, Watsons recently introduced Chinese medicine service, while in the UK, Superdrug opened a new concept store, the Beauty Studio, to offer a combination of beauty services and products.
Employees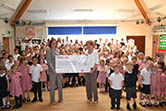 The HWL family now numbers over 280,000 employees in over 50 countries worldwide. As technology advances by leaps and bounds, HWL is committed to providing staff training and development programmes designed to help our employees enhance their knowledge and skills to meet the challenges of a changing era. As the Group continues its expansion, opportunities abound worldwide for capable employees in numerous sectors and industries. Many of our businesses are recognised for their employee programmes such as "Asia's Best Employer Brand" for A S Watson Group ("A S Watson") and "National Champion – Employer of the Year" for 3 Sweden.
Suppliers and Creditors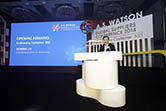 Upholding international and local laws and regulations is a top priority for HWL and its subsidiaries. HWL Head Office has implemented a policy requiring its vendors and suppliers to abide by conditions stated in the United Nations Global Compact. These requirements include non-discriminatory hiring and employment practices, a safe and healthy workplace, compliance with environmental laws and prohibition of child labour.
Regular dialogue with suppliers is also important to both parties. A S Watson hosted its biennial Global Suppliers Conference 2014 in Hong Kong. With the theme Embracing Customer 360, A S Watson exchanged views on customer engagement and strategy with the world's top health and beauty product manufacturers.
Government
The Group's portfolio includes ports, property, hotels, retail, infrastructure, energy, and telecommunications. Many of these industries are regulated by local and international bodies.
In addition to compliance with local and international laws, rules and regulations, each operating company makes tremendous effort to take into account relevant local laws and customs.